Welcome to a Special Comic-Con Concert With Darlton and the Pips!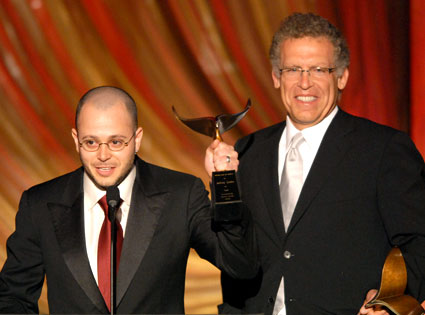 The "Pip" thing was Josh Friedman's joke, not mine, as the fans attending the showrunners panel—starring Josh Schwartz (Chuck, Gossip Girl), Bryan Fuller (Pushing Daisies), Friedman (Terminator: The Sarah Connor Chronicles) and Damon Lindelof and Carlton Cuse (both of Lost)—spent a lot of time asking about that little teleporting island we hold so dear.
Have you heard that people who watch that show have a few, um, questions?
Still, there was much love for the other shows (despite Schwartz's assertion that "I feel Gossip Girl is verboten here" even that series got some raucous cheers), and even a little scoop, so click here for the goodies...
Claire-Bear Will Be Back on Lost: Despite my earlier scoop that Emilie de Ravin is not a series regular for the coming season, Darlton promises: "You will see Claire again. Not right away but what happened with her will be explained."
Chuck Bartowski Knows Lost Secrets: Remember in the pilot when Chuck (Zachary Levi) flashed on the location of the crash of Oceanic Flight 815? Well, Schwartz recalls that, "[Damon and Carlton] sent me a box of cookies that said 'If you give away any more of our secrets we'll kill you." Funny, I got the same cookies one time from ABC after revealing a Lost death but they were laced with arsenic. (Delicious!) Meanwhile, Carlton had a question for Josh: "Wait, where is it?"
Chuck's Mama Drama Is So Coming Out: "We are picking up 10 months later," Fuller says of Daisies' second season opener. "And all the secrets have been kept by our people for a long time and they are going to burst." Fuller says he also was told by ABC that Daisies would not get a "previously on" opener, so he is cramming a lot of cool exposition into the first three minutes of the premiere.
Ditto the Other Chuck: "The second season premiere is a pilot for us," says Schwartz. "We are treating this season as if the show were off the air for years." He says the new season will start off where season one left off, with Chuck being dangled off the roof, and telling the story of how he got there.
Terminator vs. Terminator: When asked if the Terminator movies and Terminator television show are now two totally separate worlds, Friedman replied, "They really don't commune. We've always felt the TV show is an expression of the universe and the movies are another expression of the universe. They are alternate paths taken through the timeline." He added that he spoke to McG about this very topic and "we agreed it's best that he does his thing and we d our thing and never the tween shall meet."
"Serena Is Now a Cyborg!" You heard it here first, people, the latest on Blake Lively's glamorous socialite character from Gossip mastermind Schwartz, who revealed Serena Van der Woodsen's robot status in response to Damon's artfully crafted take on why mythology genre TV shows and movies rock, and are taking over the world. (See: Dark Knight.) Only question: Does Dan Humphrey like toasters?
Put the Kiddies Away! When Damon slipped an s-word into an answer, Bryan kindly pointed out the sign in front of him which Damon read aloud, "Please be aware that there may audience members under 18," then added,"So you guys are f**ked." Hee.
Damon Loves Dr. Horrible and Dex: "Considering the job that we do and that it takes 300 people to do an episode of Lost, I'm just in awe of Dr. Horrible," says Damon, who also admits he's a "huge fan of Dexter." Fuller, who won big points with this crowd for his clear love of mythology, genre, Star Wars, Star Trek (his past writing gig) and everything of the like also got a huge laugh when he announced the one series he'd love to work on: "Um, I love Project Runway."
Wait a Minute, Yvonne Strahovski Was Almost Bionic? Okay, perhaps Schwartz was kidding around, but he made it seem as though Chuck's resident butt-kicking hottie could have ended up at the leading lady on NBC's now-dead remake. "We saw Yvonne on a tape from Australia, and our casting director was literally waiting for her at the airport and snatched her up before Bionic Woman could take her away." I'm moderating the Chuck panel tomorrow and you can be sure I'm gonna follow up on that.
Please check back later for some seriously awesome (no joke) video with lots of Lost goodness that is still uploading...And 24!